Zootherapy
The presence of a pet is an undisputed positive force in human health, morale and equilibrium.
What is zootherapy?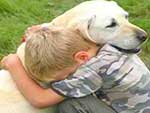 Zootherapy is a healing tool involving therapeutic accompaniment. In general, animals used in zootherapy play a role of mediator between the patient and zootherapist. Their role is not of care provider, rather they facilitate and improve the quality of care.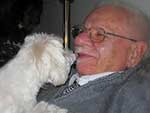 Zootherapy is an effective method of heightening reactions aimed at maintaining or improving the cognitive, physical, psycho-social or emotional potential of the patient.
Method:
Credentials:
Full zootherapist certification, issued by the Institut Français de Zoothérapie. The Institute is directed by François Beger, one of the first to introduce this valuable form of therapy to France.
Additionally, extensive experience in seeing-eye dog training as well as leading therapeutic workshops with Alzehimers patients.
Pricing: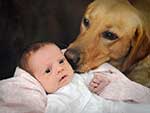 A simple hourly rate: €60 per hour, plus €0.50 per kilometer traveled. Group rate available on demand, contact us for an estimate.